God calls those He wants to be priests. He chooses them from among His people in order to consecrate them, to make them His own. From that moment on, priests no longer belong to themselves, but to God. This is why, over the course of his priesthood, the heart of the priest transforms into the heart of Jesus, and gradually learns to be meek and humble. In this way, we can identify the seven hearts of a priest, which are but one, seen from different perspectives of his consecrated vocation.   The priest doesn't get married, yet he is a father; he doesn't live with a woman, however he is a husband. He doesn't have a few siblings, nor is he an only child, but the entire humanity as his family. The priest is not a friend to a few, but to many. He doesn't wander the fields, yet he's a true shepherd. In short, the heart of a priest is that of another Christ.   The heart of the priest is…  
1. A father's heart
Exceptions aside, the priest is unmarried, however, that doesn't keep him from being a true father by vocation. The fertility that God grants priests is different, it's an inner fertility that plants the seed of the Gospel and lets it grow. The priest is the one who begets souls for eternal life. He's a father who teaches, educates, plays and has fun, but also corrects. He's a spiritual father who listens to his children's problems and advises and helps them overcome the difficult moments of life. The priest is a father who gets involved in his children's lives, but also lets them be independent. He's a father who's present in the important events of life, like the Sacraments, but he also participates in the everyday moments, like a good football game. The priest is a father by vocation, that's precisely why we call him "father;" it's not a coincidence.  
2. A son's heart
This dimension of the priest's heart is very important to his pastoral ministry. A true experience of God the Father will be essential for the priest to help him recognize himself as father of his flock – his brothers and sisters in Christ. In order to be a father, the priest has to be a son first; a son who commits mistakes and asks for forgiveness; a son who trusts and loves his father; a son who humbly accepts to be corrected; a son who responds with respect and love. Being a son of God is not as easy as some may say. Being a son entails certain responsibilities and rights. Being a son or a daughter is our first vocation (calling) when we're born. We're part of the Mystical Body of Christ, therefore, we are children of God in the Son. It is through Christ that we can be called children of God. This takes place through our Baptism, which confers an indelible seal upon our soul. The priest acts always according to God, "for from Him and through Him and for Him are all things" (Rm. 11:36).  
3. A brother's heart
Oh, how difficult it is to be a brother! And the point is that, as Saint Francis of Assisi said, "one chooses one's friends, but accepts one's family." Siblings are to be accepted with love and as they are. We always look for the best in them, we advise and help them while at the same time we let them do the same to us. It's a mutual relationship of love that one doesn't choose, but rather embraces. The priest is called to be a brother to all, without any type of preferential treatment. Everyone is important to him. No matter who they are or what they do, they can be assured that in the priest they have a brother they can trust. But beware that their brother priest is not exempt from imperfections and weaknesses. On the contrary, the priest also works hard everyday to improve himself and overcome his ego. This is beautiful: to see that both, those who are priests and those who are not, must fight everyday to be a saint, and we fight this battle together supporting each other.  
4. A husband's heart
In the Roman Catholic Church, priests don't get married, and this isn't due to a form of discrimination. On the contrary, the Church, as mother and teacher, has seen it prudent, throughout the centuries, that priests remain celibate in favor of their mission. And the point is that the priest's love pours itself out for the whole Church family. He takes on this commitment freely, and always for love. As we can read in the Gospel according to Matthew, "Not all can accept [this] word, but only those to whom that is granted" (Mt 19:11).   From the very early days in the Church, Christ has been called "the Bridegroom of the Church," and the priest also becomes the "bridegroom" by acting in the name of God, with whom he commits to be faithful and educate his children about the faith. This is a very important dimension in the life of the priest. As a husband, the priest has responsibilities and rights. That is how he lives as part of a great family, looking after it with love and protecting it with his own life if it's necessary.  
5. A friend's heart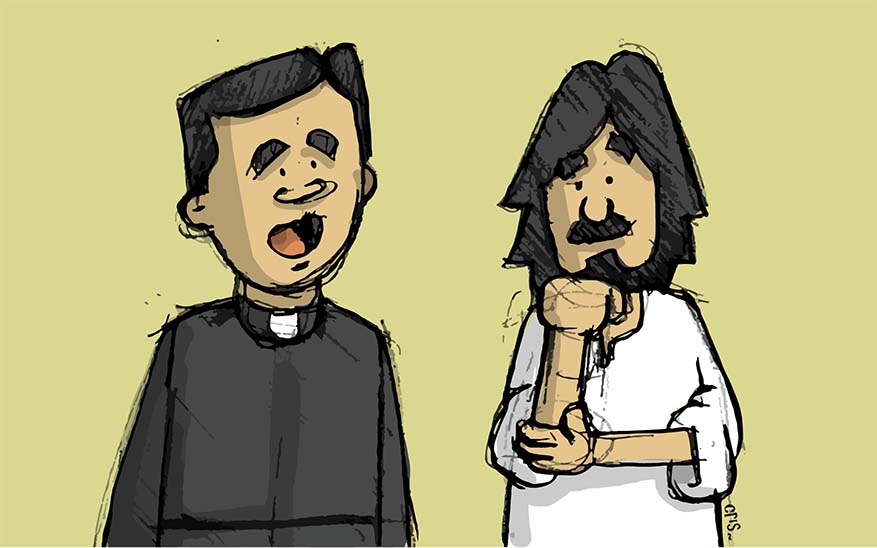 I would say that a priest is one of the best friends one could ever have. We know that we can trust him no matter what; he will always be there when we need him, and will care because he wants the best for all of us. Above all, the priest is called to be a friend of Jesus, to make him THE friend of friends. It is through this special relationship that the priest is called to be a friend to others, because he has learned from Christ what true friendship is. Yes, the priest also argues with Jesus every now and then over things he cannot understand or which are difficult. However, the best comes when they reconcile: that's how friendship works. Think about your friends, who's never argued with them? We've all had arguments with our friends! This is normal because friendship doesn't depend on the problems we have but, on the contrary, is based on selfless love.
6. A shepherd's heart
The image of the shepherd with a flock of sheep refers directly to Christ the Good Shepherd. The priest becomes the shepherd of the people of God through his priestly ordination, because he acts like another Christ. He's the instrument through whom God has wanted to act in the life of Man. This is something really important, sometimes difficult for some understand, but it's a great gift from God to the men in his Church. The priest looks for the lost sheep and brings them back to the flock. He loves them, brings them back, embraces them with tenderness when he finds them. A shepherd must be authentic, that is, he must let the sheep graze in calm. He watches over them, but also gives them space. The sheep know their shepherd's voice, they don't go just with anyone. Some years ago Pope Francis said that priests must have "the smell of the sheep," they must get involved in their lives, be with them, and carry them when necessary. It's not an easy mission but, trusting God's grace, we know that it can be done with love and joy.  
7. A heart after Christ's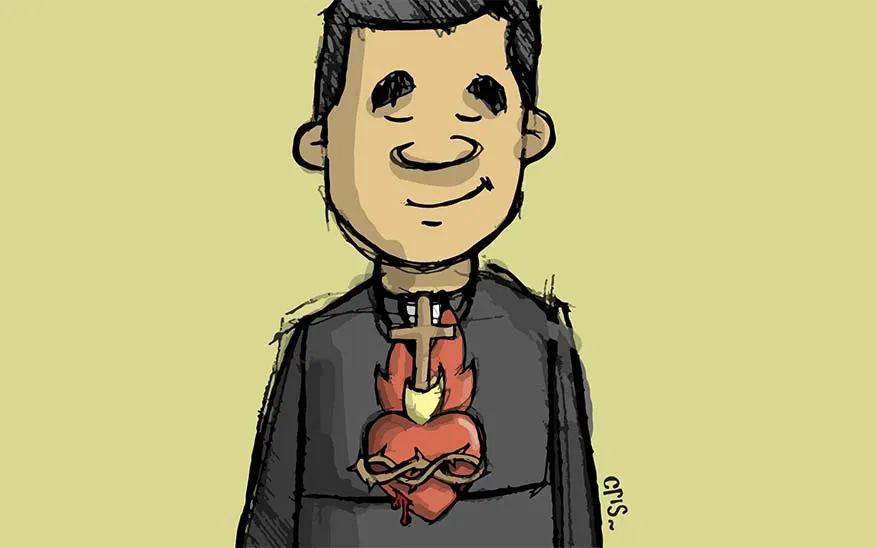 The priestly heart is a heart that identifies with the heart of Christ: with His sufferings, pains, joys, feelings, etc. There's a short prayer that we, religious men and women, always pray: "Jesus Meek and Humble of Heart… make my heart like unto Thine." These words are aimed at all those who are consecrated to God, but especially those He has chosen for the priesthood.   St. Faustina Kowalska wrote in her diary: "Jesus, make my heart like unto Yours, or rather transform it into Your own Heart that I may sense the needs of other hearts, especially those who are sad and suffering. May the rays of mercy rest in my heart" (Diary, 514). This is God's call to us, a calling that requires a great deal of self-denial, love, and renunciation. This calling doesn't admit mediocrity. It asks us to give everything for the Kingdom of God.
---
The priestly heart seeks to be as similar to the heart of Christ as possible, that's why, little by little, he starts becoming like Christ, beginning even with his entry into the seminary. The priestly heart is a heart open to everyone, full of love to give. A heart that burns with love for Christ. A heart that's also wounded, that forgives, and heals. A heart loved by God. In sum, it's like the heart of Christ on earth. Let Saint Therese of Lisieux explain this great gift, with her simple and profound words:
"I understood that if the Church had a body composed of different members, the most necessary and most noble of all could not be lacking to it, and so I understood that the Church had a heart and that this heart was burning with love. I understood it was love alone that made the Church's members act; that if love ever became extinct, apostles would not preach the Gospel and martyrs would not shed their blood. I understood that love comprised all vocations, that love was everything, that it embraced all times and places… in a word, that it was eternal!"

St. Therese of Lisieux, Story of a Soul
---
Artwork by Cris.This post was written by H. Edgar Henríquez Carrasco for Catholic-Link Spanish and was translated into English by Lorena Tabares.